Creating Change for Adolescent Girls
HGNA challenges the negative images and information bombarding girls today, while offering support and education to their parents.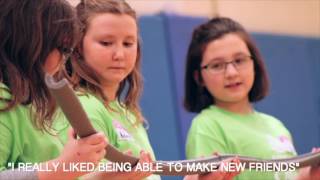 Check Out Chick Chat!
This video highlights Chick Chat -- our day-long workshop where 4th through 6th grade girls can explore their interests, address the challenging issues facing young girls today and build interpersonal skills, all while having fun within a safe and nurturing environment.
Click here for more information on how to bring Chick Chat to your community.
Annual HGNA Pancake Breakfast
Saturday, October 21, 2017
JOIN US FOR OUR MAIN FUNDRAISER and for what has become one of Downers Grove's favorite fall traditions. Come early for breakfast (from 8 a.m. to 11 a.m. and generously hosted by Ballydoyles) and stay for the Downtown Window Painting Event, sponsored by the Downers Grove Downtown Management Corporation and the Rotary Club of Downers Grove. Bring a canned good to donate to the F.I.S.H. food pantry and receive your paints at the Breakfast.
HEROES -- A Program for 4th and 5th Grade Boys
REGISTRATION OPENS AT 9:00 AM, ON OCTOBER 10
Our newly updated HEROES, a half-day event for fourth and fifth grade boys is being held on Saturday, November 4 from 9 a.m. to 2 p.m. at Puffer Elementary School. The boys will participate in engaging discussions and activities that will lead them to identifying and embracing their unique qualities and being a good friend. Through fun team-building activities, small break-out groups and a game of dodgeball, trained facilitators will cover topics that include self-awareness, conflict resolution, stress management and respect.
Our Recommendations
We love to share some of the great things we've discovered!